Mazarine New Alamein North Coast
Status
Under Construction
Details
Project Name: Mazarine.
Mazarine Location: New Alamein City.
Mazarine New Alamein North Coast Space: 702 acres.
The Executing Company Name: City Edge Developments.
Units types: Chalets - Villas - Twin Houses.
Chalets spaces: start from 167 m².
Villas Spaces: start from 359 m² up to 576 m².
Price per meter: starts from 25.571 EGP up to 31.137 EGP.
Browse Now Properties for sale in New Alamein City
As one of its high-quality projects, City Edge Real Estate Development has launched its new project, Mazarine New Alamein, which is designed at the latest model and is the first to be built on a large area of 702 acres.
It also features several artificial lakes, vast green areas and many facilities, as well as its unique location in the heart of the new City of Alamein, which is already the promising future of the North Coast region.
Find out the Properties for sale in North Coast
The word "Mazarine" means dark blue shadows and the compound is the new challenge for City Edge, as for the first time you'll find a project with chalets, villas, and twin houses.
Join the owners of this compound and enjoy a holiday full of luxury services in Egypt's most prestigious region.
The compound designed over an area of 702 acres and buildings on an area of 72 acres with magnificent designs, the buildings were built in the form of a U with a mile angle allowing all units to see the sea, the buildings were built on an area of only 20% and the rest of the area is dedicated to services, water bodies, and green spaces.
Your comprehensive guide of the Best Resort in New Alamein Egypt
Where is Mazarine North Coast?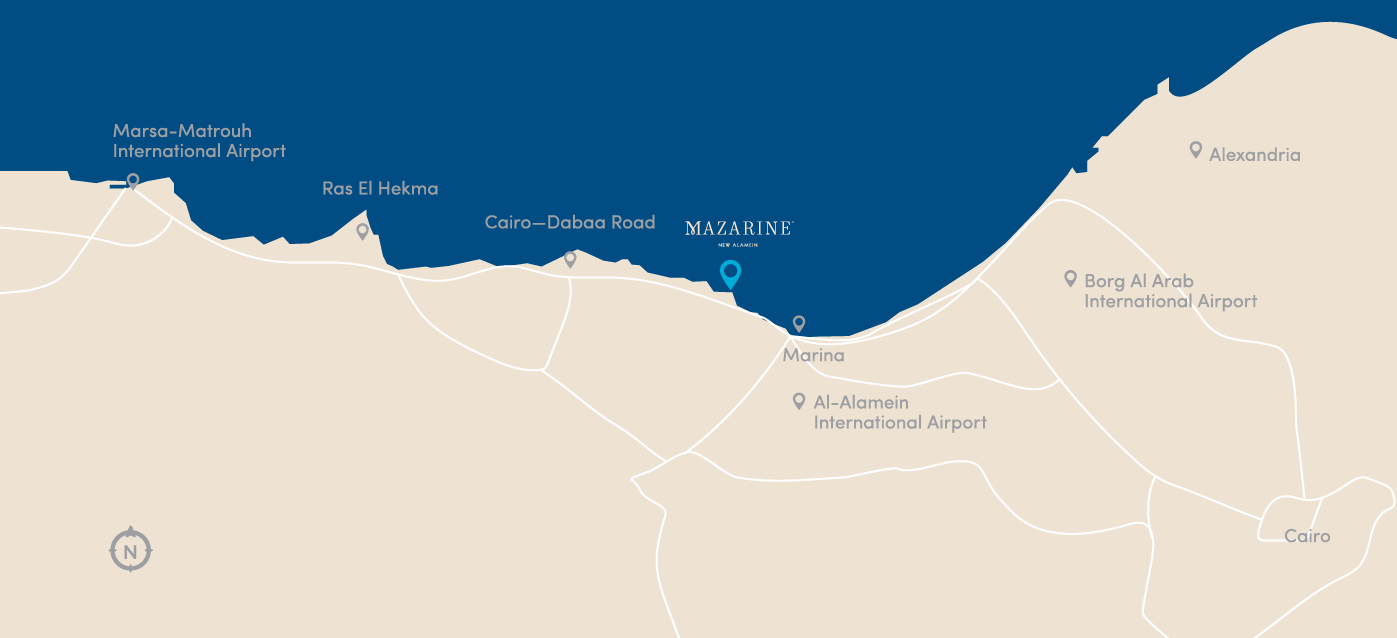 It is located in a privileged location in New Alamein City west of the North Coast, the location of the resort is :
At Kilo 107 of Alexandria-Matrouh Road.
Near Alexandria and can be reached in an hour and a quarter.
It is 261 km from Cairo and can be reached in two and a half hours.
It is 184 km from Matrouh and can be reached within two hours.
It is 54 km from Al Alamein Airport.
It is 89 km from Borg El Arab Airport.
Full Details on the cheapest Chalets for sale in North Coast
Most important features of Mazarine North Coast
It has many features due to its location in New Alamein City North Coast where it has countless features, it contains all the basic and important services and facilities needed by individuals such as schools, universities, museums, opera house, cultural center, conference hall, huge library, historical areas, etc., and recreational services such as amusement park, track for cycling and running, huge Lake of Alamein and distinctive private beaches.
Your guide to know the top Villas for sale in North Coast
The project features are as follows:
The privileged location of the new City of Alamein North Coast.
Integrated services provided by it.
All facilities are available in New Alamein City.
directly overlooks a 635 m² of the sea.
More than half of the resort's area is allocated to green spaces and artificial lakes.
There is a large lake dedicated to boating, yachting, and swimming.
Choose Your Dream Home Easily Twin houses for sale in North Coast
Most important services in Mazarine City Edge
There are modern panoramic elevators within the 4-floor units.
There is a special waste collection system.
Fiber Optic System.
A special generator for the village.
Cinema.
Various swimming pools.
Restaurants and cafés.
Many artificial lakes.
Recreational kids area.
5-star hotel and hotel services.
Private beach.
24-hours security and guarding.
Private Beach.
Gym and Spa.
Commercial Area.
Health Club.
Aqua Park.
Mosque.
More information about Townhouses for sale in North Coast
Units Spaces within The Project
There are many units of different spaces and types, up to 296 residential units of villas, chalets, and twin houses.
There are 4-floor buildings with an elevator, a chalet and a penthouse, consisting of two floors and a private garden, and the two upper floors consist of a penthouse starting with a space of 165 square meters.
These spaces are divided unto:
Villas space starts from 359 m² up to 576 m².
Twin Villas with space starts from 324 m².
3 rooms Chalet with space starts from 167 m².
4 rooms Chalet with space starts from 327 m².
Price Per Meter & Units Prices
The price per meter starts from 25.571 EGP up to 31.137 EGP.
Villa Mazarine price starts ranging from 9.180.000 EGP up to 14.728.896 EGP.
Twin Villa prices start from 6.500.000 EGP up to 8.500.000 EGP.
The ground floor chalets price starts from 5.400.000 EGP up to 6.400 EGP.
The upper first-floor chalets shall range from 5.200.000 EGP up to 6.600.000 EGP.
Chalets with 3 bedrooms start from 4,500,000 EGP.
Chalets with 4 bedrooms start from 8.361.717 EGP.
The Delivery Date
The residential units of all types shall be delivered after 3 years from the booking date.
Prices within the project vary depending on the size of the units, and the prices are suitable for the services provided by the project as well as the easy payment system with the lowest downpayment and the longest repayment period and all units are fully finished.
Information About The Developer
City Edge Real Estate Development Company has established the village with the cooperation of Orascom because of its extensive experience in this field. City Edge was founded in 2017 and it is one of the major and important companies in the field of real estate development and is affiliated with the government entity.
The company was established in partnership with other real estate companies:
60% of the company is owned by the Ministry of Housing and the Urban Communities Authority.
38% is for the Housing and Construction Bank.
The Holding Company for Development and Investment owns 2% of the company.
City Edge major Projects
The company has established several large projects in several major cities and regions, it has set up three projects in the North Coast, one project in the New Administrative Capital and Mansoura and two projects in Sheikh Zayed, and these works are:
Note that the prices and spaces mentioned herein are for the first half of 2020, and therefore it is changeable, and we, Real Estate Egypt, are keen to update the spaces and the list of residential and commercial units' types and prices constantly to keep the customer informed of the real estate market changes.
Amenities
Security

Playgrounds

Swimming pools

Shopping center

Commercial area

Mosque

Social Club

Health club and Spa

Water Fountains

Hotel

Aqua park

Cinema
Other Projects in the Same Area