Mazarine New Alamein
السعر مُتاح عند الاتصال
Status
Under Construction
Mazarine Location New Alamein City.
Mazarine New Alamein North Coast Space 702 acres.
The Executing Company Name City Edge Developments.
Units types Chalets - Villas - Twin Houses.
Chalets spaces start from 167 m².
Villas Spaces start from 359 m² up to 576 m².
Price per meter starts from 25.571 EGP up to 31.137 EGP.
Mazarine New Alamein Brochure and Master Plan
Details
Project Name: Mazarine.
Mazarine Location: New Alamein City.
Mazarine New Alamein North Coast Space: 702 acres.
The Executing Company Name: City Edge Developments.
Units types: Chalets - Villas - Twin Houses.
Chalets spaces: start from 167 m².
Villas Spaces: start from 359 m² up to 576 m².
Price per meter: starts from 25.571 EGP up to 31.137 EGP.
Browse Now Properties for sale in New Alamein City
As one of its high-quality projects, City Edge Real Estate Development has launched its new project, Mazarine New Alamein, which is designed at the latest model and is the first to be built on a large area of 702 acres.
It also features several artificial lakes, vast green areas, and many facilities, as well as its unique location in the heart of the new City of Alamein, which is already the promising future of the North Coast region.
Find out the Properties for sale in North Coast
The word "Mazarine" means dark blue shadows and the compound is the new challenge for City Edge, as for the first time you'll find a project with chalets, villas, and twin houses.
Join the owners of this compound and enjoy a holiday full of luxury services in Egypt's most prestigious region.
The compound was designed over a space of 702 acres and buildings on a space of 72 acres with magnificent designs, the buildings were built in the form of a U with a mile angle allowing all units to see the sea, the buildings were built on an area of only 20% and the rest of the area is dedicated to services, water bodies, and green spaces.
Your comprehensive guide of the Best Resort in New Alamein Egypt
Where is Mazarine North Coast?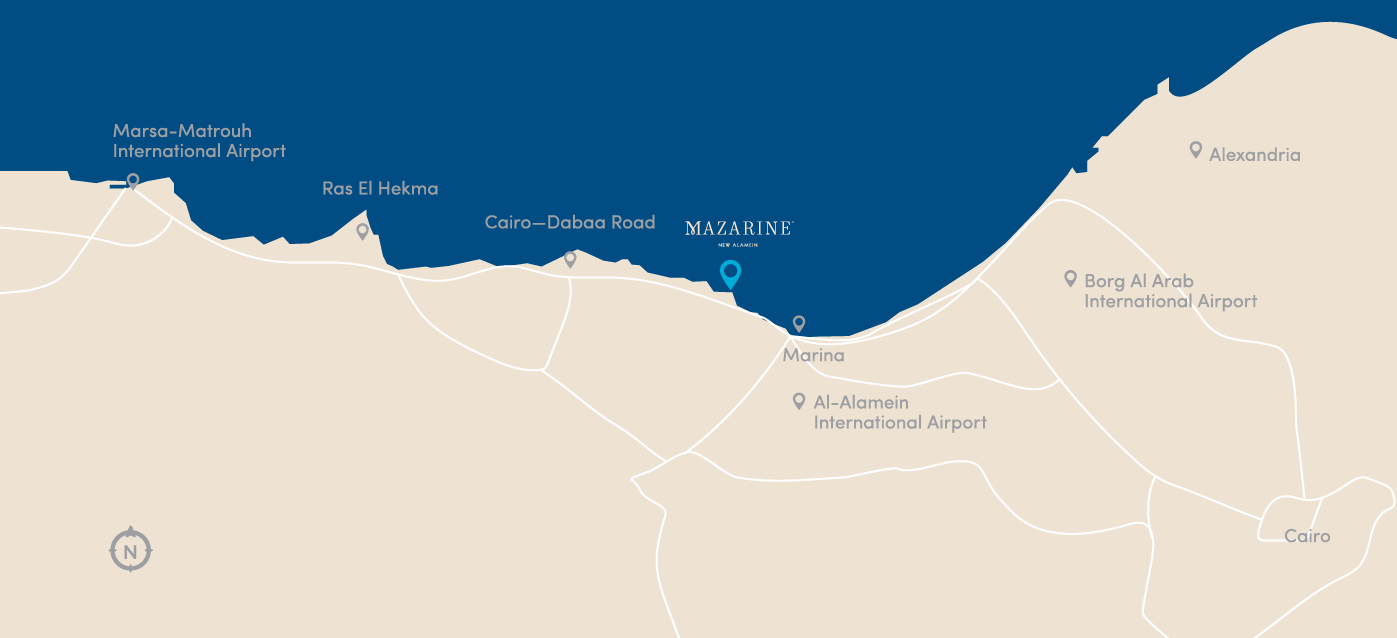 It is located in a privileged location in New Alamein City west of the North Coast, the location of the resort is :
At Kilo 107 of Alexandria-Matrouh Road.
Near Alexandria and can be reached in an hour and a quarter.
It is 261 km from Cairo and can be reached in two and a half hours.
It is 184 km from Matrouh and can be reached within two hours.
It is 54 km from Al Alamein Airport.
It is 89 km from Borg El Arab Airport.
Full Details on the cheapest Chalets for sale in North Coast
Most important features of Mazarine Alamein
City Edge Developments excelled in designing one of the most amazing projects in New Alamein North Coast, which is a first-class tourist area, as it contributes significantly to creating a modern and civilized shift within the Arab Republic of Egypt in an unprecedented way, and the company has been interested in providing the compound with various features that allow it to enter a hugely competitive arena amid the momentum of resorts with which major real estate companies compete in the Egyptian architecture market, and among the highlights of Mazarine North Coast Compound are the following:
Your guide to the best villas for sale in the North Coast.
It is located in the heart of New Alamein and has all the advantages that make it the best tourist resort that captures the attention and hearts.
The stunning landscape is enough to transport you into a different realm thanks to the wonderful combination of green spaces and artificial lakes.
Direct sea views with soft glittering sands and clear turquoise waters.
Gym and Spa, including several luxury facilities such as a Jacuzzi, a beauty center, and a sauna.
The compound is close to Borj Al Arab Airport and Alamein Airport, as well as Alexandria and Marsa Matrouh governorates. The resort is in the middle of many beautiful locations and important services.
Surrounded by the breathtaking natural landscape that encourages relaxation.
Buildings are not higher than four floors, allowing for a panoramic view from all the units. Each building is equipped with a high-tech elevator from a renowned manufacturer.
Villas have a view of a private lake, while twin houses have a view of green spaces and swimming pools. This variety allows customers to choose whatever suits them best.
The resort has a private beach that is 635 meters wide, which is ideal for diving.
There's a large number of swimming pools within the resort with different depths to suit all ages.
Views of green spaces from all the units, spacious gardens, and event venues for celebrations and gatherings.
Beautiful modern designs for all the buildings, give a more luxurious atmosphere to the compound.
Each building has a large parking space for residents and visitors.
The compound is secured with surveillance cameras and security personnel that keep the place safe throughout the day.
Large commercial malls with branches from the most popular brands.
There are plenty of jogging tracks between the buildings, which can also be used for cycling.
Car roads are available in every part of the compound, but they're completely separate from the jogging tracks to keep them safe.
Top-tier units are provided with private lakes.
The most luxurious Arabic and international restaurants can be found within the resort, there are also several unique cafes.
The sandy beach is provided with a walkway that extends for 14 kilometers, in case you want to take a stroll by the sea and enjoy the coastal breeze.
An amusement park with rides suitable for all ages and with safety features.
A massive library with a cultural center, which is a rare feature that reading lovers will appreciate.
Chalets and villas with a direct sea view.
A sporting club, fully equipped for various sports and to suit all tastes and levels of fitness.
The compound is surrounded by a long fence, to provide more safety and privacy.
A complete customer service center within the compound.
The company gives buyers the option to receive fully-finished units, including air conditioning.
The entire project is very calm and serene, a world of difference from the busy city life.
Medical clinics with the best equipment and the most experienced healthcare workers, working throughout the day to manage any emergency. There's also plenty of clinics in various health specifications.
More information about townhouses for sale in North Coast
Units Spaces within The Project
There are many units of different spaces and types, up to 296 residential units of villas, chalets, and twin houses.
There are 4-floor buildings with an elevator, a chalet, and a penthouse, consisting of two floors and a private garden, and the two upper floors consist of a penthouse starting with a space of 165 square meters.
These spaces are divided unto:
Villas space starts from 359 m² up to 576 m².
Twin Villas with space starts from 324 m².
3 rooms Chalet with space starts from 167 m².
4 rooms Chalet with space starts from 327 m².
Price Per Meter & Units Prices
The price per meter starts from 25.571 EGP up to 31.137 EGP.
Villa Mazarine price starts ranging from 9.180.000 EGP up to 14.728.896 EGP.
Twin Villa prices start from 6.500.000 EGP up to 8.500.000 EGP.
The ground floor chalets price starts from 5.400.000 EGP up to 6.400 EGP.
The upper first-floor chalets shall range from 5.200.000 EGP up to 6.600.000 EGP.
Chalets with 3 bedrooms start from 4,500,000 EGP.
Chalets with 4 bedrooms start from 8.361.717 EGP.
The Delivery Date
The residential units of all types shall be delivered after 3 years from the booking date.
Prices within the project vary depending on the size of the units, and the prices are suitable for the services provided by the project as well as the easy payment system with the lowest downpayment and the longest repayment period, and all units are fully finished.
Information About The Developer
City Edge Real Estate Development Company has established the village with the cooperation of Orascom because of its extensive experience in this field. City Edge was founded in 2017 and it is one of the major and important companies in the field of real estate development and is affiliated with the government entity.
The company was established in partnership with other real estate companies:
60% of the company is owned by the Ministry of Housing and the Urban Communities Authority.
38% is for the Housing and Construction Bank.
The Holding Company for Development and Investment owns 2% of the company.
City Edge major Projects
The company has established several large projects in several major cities and regions, it has set up three projects in the North Coast, one project in the New Administrative Capital and Mansoura, and two projects in Sheikh Zayed, and these works are:
Note that the prices and spaces mentioned herein are for the Second half of 2021, and therefore it is changeable, and we, Real Estate Egypt, are keen to update the spaces and the list of residential and commercial units' types and prices constantly to keep the customer informed of the real estate market changes.
FAQ
Various payment systems over long periods
Amenities
Security

Playgrounds

Swimming pools

Shopping center

Commercial area

Mosque

Social Club

Health club and Spa

Water Fountains

Hotel

Aqua park

Cinema
Other Projects in the Same Area