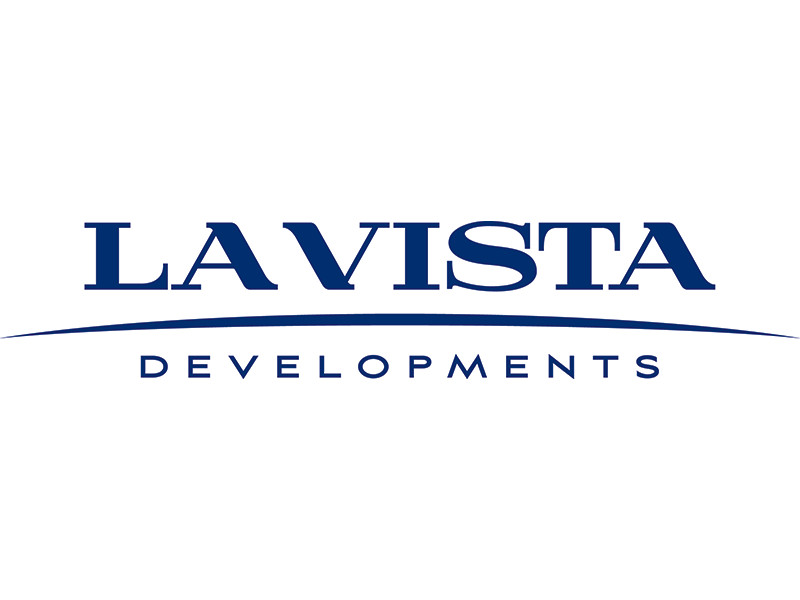 About La Vista City New Capital Compound
Status
Under Construction
Project Name: La Vista City.
About Project: Integrated Residential compound by La Vista Development, located in the Administrative Capital and near Hyde Park and Mivida on Middle Ring Road.
La Vista City Location: in New Administrative Capital - R4.
La Vista City Space: 910 acres.
Units Type: Villas - Town Houses - Twin Houses.
Units Space: starts from 230 m² up to 470 m².
Units Price: Ranging from 4.6 million EGP up to 10.5 million EGP.
The Executing Company Name: La Vista Development
Payment Methods: 15% downpayment and installments up to 6 years.
At a privileged point at the east of the regional ring road near Badr city, there is the New Administrative Capital, whose location has been carefully chosen by the Egyptian government.
The New Capital, with its luxurious residential compounds, is the closest point to Ain Sokhna in Suez governorate, where it is only 80 kilos from the governorate and is located behind Mostakbal city and a few kilometers from "Madinaty" compound, and it is 60 km from the heart of Cairo, the old capital, so it is easy to reach the New Administrative Capital directly through Sheikh Mohammed bin Zayed Southern Axis on the Suez Road or from Gindali road 2.
This unique location is an attraction for many of those looking for high-end residential units because of the unique architectural planning and construction of the New Administrative Capital.
Starting from the massive area of the New Administrative Capital to its large capacity for citizens wishing to settle in this New Capital, in addition to the good planning of roads connecting to and from the capital.
If you are interested in owning a high-end residential unit in the promising capital, we offer you La Vista City Compound in the New Administrative Capital, the high-end residential project, one of the capital's most recent projects, is located on the Green River near the Bin Zayed Southern Axis
La Vista City Compound in New Capital
It is one of the Administrative Capital's newest projects, a high-end residential project located on the Green River near Bin Zayed South Axis, Hyde Park Compound, City Gate Compound, Mivida project on the central ring, extention of Golden Square.
The project has an area of 910 acres, and it has been decided to build on only 15% of the land area, and the rest for project services and green spaces.
The residential units in La Vista Administrative Capital project, range from villas - townhouses - Twin Houses, and the residential area start from 230 square meters up to 470 square meters.
Major features include:
Street width is up to 18 meters.
No residential apartments.
Green spaces between residential units range from 25 m² to 80 m².
Administrative and commercial areas are separate from the residential units.
Located near the Green River.
Information about the developer
La Vista Development is the developer company, and is one of the largest real estate companies in the Middle East and has provided many vital projects since it was established in 1991:
North Coast Projects:
La Vista Bay East.
La Vista Bay.
La Vista Cascada.
La Vista sol.
Projects in Ain Sokhna:
6th of October City Projects:
El Patio Zahraa.
El Patio 6.
El Shorouk City
New Cairo
El Patio 2.
El Patio 3.
El Patio 7.
New Administrative Capital
La Vista City Project.
For More information about the best New Administrative Capital compounds, Click here
Read more about the project
Services of La Vista City Administrative Capital
The Developer has provided a wide range of services in order to provide comfort and convenience to the residents such as:
International schools.
Sports Club.
Club House.
24-hour medical clinics.
Green spaces, water bodies and industrial lakes.
Gym and Spa.
Restaurants and cafes.
Covered parking.
Garage for all residential units.
Running tracks and sports playgrounds.
A commercial mall.
24/7 Security and guarding.
Units spaces in La Vista New Capital
Townhouse with space starts from ​​230 m².
Twin House with space starts from ​​276 m².
Villa with space starts from ​​300 m² to 380 m².
Units prices
The price per meter starts from 20,000 EGP up to 24,667 EGP.
The residential units prices ranging from 4.6 million EGP up to 10.5 million EGP.
Town houses price starts from 4,600,000 EGP up to 5,600,000 EGP.
Twin Houses price starts from 5,600,000 EGP up to 5,800,000 EGP.
Villas price starts from 7,400,100 EGP up to 9,373,460 EGP.
Note: The owner will be given an 8% discount if the unit amount is paid over 6 years.
Payment systems
15% downpayment and installments over 6 years.
The scheduled date for delivery
The residential units shall be delivered within 3 years from the beginning of the project, at the beginning of 2022.
Note that the prices and spaces mentioned herein are for the first half of 2019, and therefore it is changeable, and we, Real Estate Egypt, are keen to update the spaces and the list of residential and commercial units' types and prices constantly to keep the customer informed of the real estate market changes.
Amenities

Security

Playgrounds

Swimming pools

Shopping center

Commercial area

Social Club

Health club and Spa

Water Fountains
Other Projects in the Same Area