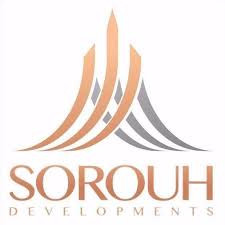 Entrada New Capital
Sorouh
5 Properties
From 1,266,000 EGP
About Entrada New Capital
Status
Under Construction
Project Name: Entrada.
About Project: A residential project whose facades are designed in the European style and characterized by services, water bodies, green spaces, and landscapes.
Entrada Location: R7 in the New Administrative Capital.
Project Space: 72 acres.
The Developer Name: Sorouh Developments.
Units Type: apartments - duplexes - penthouses.
Price per Meter: It starts from 8800 EGP up to 9950 EGP.
Units Space: It starts from 113 m² up to 268 m².
Payment Systems: 0% up to 25% downpayment with different installment period starts from 6 years up to 10 years.
Entrada New Capital
Sorouh Company has announced the launch of its new project in the heart of the New Administrative Capital.
Entrada Egypt is one of Sorouh's first projects in the Administrative Capital, which has a long history of real estate construction in the Middle East and is developing international designs, in order to be a world of luxury and comfort.
The company's design of Entrada Sorouh has focused on giving residents a luxurious living within an integrated urban community. Sorouh has hired the latest international talent in designing the project, so the architectural designs are of a modern European character while preserving the authentic Arab style of Egyptian life.
For More information about the best compounds in New Capital
Details about Entrada New Capital Sorouh
The compound is built on an area of ​​72 acres and the construction rate is about 20% of the area of ​​the project, the rest of the area includes services, green spaces, landscape, water bodies and a variety of recreational services.
As for the division of the project, it is divided into a group of real estate units of apartments, duplexes, and penthouse, and you can choose between them, as for the design, the European design was selected for the design of the project facades.
Read more about the project
Entrada Sorouh location
The project is located in a very lively location in the 7th district, R7, of the Administrative Capital, next to the 8th residential district, which includes one of the most prestigious residential compounds, Anakaji New Administrative Capital Compound.
The compound is also located in a very privileged location near Mohammed bin Zayed South axis and next to the Green River, Fairground, and in front of Expo City. It is 15 minutes from the Administrative Capital Airport and the Presidential Palace next to the British University and minutes from the Cathedral and the Mosque.
Moreover, it is only about a third of an hour away from the residential area and the financial and Central Business District.
Services provided by Entrada New Capital
Green spaces, public parks, and gardens for kids.
Swimming pools for adults, children, and artificial lakes.
Gym and Spa.
A track for walking and other tracks for cycling and running.
Club House.
A dedicated area for restaurants, cafes, and other barbecues and parties areas.
A recreation area featuring all the children's global games.
A social club and health club with state-of-the-art equipment.
Private parking for the compound residents and a private garage below each unit.
Sports courts for all activities.
There is a comprehensive commercial area built on an area of 1.3 square kilometers.
The owner company has not missed providing educational services, namely, to provide a great university and international schools for all stages within the compound.
A world-class hospital has also been provided to provide health services, as well as a high-quality pharmacy, and a large supermarket with all goods and other services.
There are a variety of units within the compound including townhouses, dublexes, and detached apartments.
Features of life at Entrada compound
It has many things that made it one of the giant projects such as:
Excellent location near all services and easy exit and entry from the project because of its proximity to the ring road.
Many payment systems are available where you can get a unit without paying any downpayment.
Security and privacy are available through the latest security system with 24-hour surveillance cameras.
Distinctive designs and various spaces as well as plenty of amenities.
All units have scenic views of either green spaces or artificial lagoons.
Entrada Apartments and other units spaces
There are various units with varying sizes within the compound, where the apartment space starts from 125 square meters, and there are other units ranging in size from 128 square meters up to 220 square meters as a maximum, while the luxury duplex units, ranging in size from 225 square meters up to approximately 290 square meters, and the prices include the following:
Apartments with price starts from 80 m² are with a price starts from 2,807,300 EGP.
Apartments with space starts from 115 m² and a price starts from 1,585,519 EGP.
Apartments with space starts from 159 m² are with a price starts from 1,891,192 EGP.
Apartments with space starts from 164 m² and with a price starts from 1,993,502 EGP.
Apartments with space starts from 172 m² with a price starts from 2,210,549 EGP.
Apartment with space starts from 193 m² are with a price starts from 2,470,343 EGP.
Apartment with space starts from 203 m² are also with a price starts from 2,622,174 EGP
There are also apartments within the complex with an area of 208 square meters and a price starting from 3,203,355 Egyptian pounds.
Finally, the apartments with an area of 241 square meters which its price starts at 3,301,623 Egyptian pounds.
Find out more about the cheapest 9 compounds in New Capital
Payment Systems
0% downpayment and the rest in equal installments up to 6 years.
7% downpayment and installments up to 7 years.
25% downpayment and installments up to 10 years.
7% of the unit value is paid as a maintenance deposit.
As for the price per meter starts from 8800 pounds to 9950 pounds per meter according to location and space of ​​the apartment.
Project delivery date:
Sorouh Development has announced that the entire project will be delivered in 2022.
About Real Estate Developer
Sorouh is one of the Middle East's leading real estate developers and is a large and distinguished group of investors and developers in the Middle East, with a group of Egyptian and Arab partners who have significant experience in real estate development in the Middle East. Sorouh is one of the groups owned by Eng. Ahmed Al Taibi, owner of Ra Sports Agencies in Egypt, and owner of Maadi Towers Group, Eng. Salah Al Hilali, the largest contracting company in the Middle East.
As for the company's previous projects, it has implemented more than 250 real estate projects in the UAE, Egypt, Turkey, Saudi Arabia, and Kuwait. This is why we expect the Entrada New Capital to be a giant project with many of the features that the customer is looking for and provide him with luxury.
Its latest projects include:
Entrada Avenue Project in The New Administrative Capital.
Citadel Mall New Capital.
Note that the prices and spaces mentioned herein are for the first half of 2020, and therefore it is changeable, and we, Real Estate Egypt, are keen to update the spaces and the list of residential and commercial units' types and prices constantly to keep the customer informed of the real estate market changes.
Amenities

Security

Playgrounds

Swimming pools

Shopping center

Commercial area

Social Club

Health club and Spa

Water Fountains

Aqua park
Other Projects in the Same Area