First Group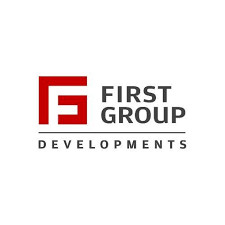 About First Group
Projects: 4
First Group
Since its inception in 2002, First Group has been one of the most important Egyptian firms in the sector of real estate investment and development, with a long history of generating unique projects, Since 2011, the company's unique fingerprints have been present in the Kingdom of Saudi Arabia, although, under the name Golden Integrated for Reconstruction and Development, The First Group's goal is to implement a large number of projects that are characterized by their strength and designs that are suitable with various lifestyles and meet the needs of a wide range of clients.
Information about First Group Company
The First Group has a wide range of projects, including commercial and residential complexes in various parts of Cairo and New Cairo, and is expanding its reach to cover the North Coast and Ain Sokhna.
Advantages of First Group Company
The following are some of the benefits that First Group Real Estate Investment provides to its clients:
First Group is distinguished by the highest levels of integrity and honesty, which are reflected in the ethical standards to which all members of the company's team are committed. This is done in both personal and professional dealings with clients, and it works to establish the institution's rules and principles in the actions and decisions it makes.
First Group for Real Estate Investment is distinguished by its commitment to providing all high-quality services in order to satisfy all consumers.
Transparent transactions enable the first group to form effective relationships between customers and the firm's team, and the company provides an open atmosphere in accordance with the plan established to strengthen customer trust.
Respect between clients and the firm's team, as well as between the company and its suppliers, characterizes the atmosphere that First Construction and Development fosters, allowing the company to prosper via its numerous partnerships and projects.
First Group's Mission and Vision
First Group's purpose is to have the necessary experience and deliver sophisticated real estate services to investors and clients, as well as to be a dependable company for long-term dealings.
The First Group's mission is to continue producing projects to fulfill a variety of consumer needs while also keeping up with the ever-changing real estate markets.
First Group Projects
First Group Real Estate Investment has completed a number of significant projects in Cairo, which we shall outline below:
Kenz Compound is one of First Group's most important projects, and it was chosen for execution in the 6th of October City. The business also provides a blend of advanced and unique features.
The First Group was looking for a place near the October Gardens and Remaya Square, from where it could access Giza, Cairo, Al-Wahat Road, the 26th of July Corridor, the Cairo-Alexandria Desert Road, and the new regional ring road.
With a beautiful panoramic view of the vast green spaces, you can enjoy privacy and a different lifestyle.
Inside Kenz Compound, the First Group has taken care of constructing a large commercial mall.
Its strategic location, which puts it in close proximity to a variety of amenities and services.
Regular apartments, duplexes, and twin houses, all of which are fully finished, are available to suit various needs.
A premium social club represents First Group Development's entertainment services.
Smart gates and advanced surveillance cameras are used to provide security.
Private Garages.
Kazan Plaza Mall, which is the newest in terms of architectural design and implementation from First Construction and Development in Sheikh Zayed, and has several benefits as follows:
The mall is located immediately in front of the Mall of Arabia in the 6th of October City. It is also close to Dar Al Fouad Hospital, Nile University, Shooting Club, and the Industrial Zone in October.
The mall has an area of 20,000 square meters and extends up to four buildings with three floors.
It includes administrative and medical units beginning from 55 square meters to 135 square meters.
There are numerous places to go out and have fun, as well as restaurants and shops.
The mall's exterior spaces include outdoor dining areas and parking lots.
The benefits of First Company's sales team
A distinguished sales team with the required experience in the field of real estate makes up the First Group for Real Estate Investment. Individuals are selected with the following specifications:
The ability to conduct a variety of sales transactions in the company's office.
Professional marketing method for various projects.
Providing necessary assistance for marketing campaigns.
Individuals in the sales team must have at least five years of experience.
First Group Awards
We must add that First Group earned the prize for best global real estate developer at the "Living Africa Awards" and is one of Africa's leading real estate platforms.
Last updated at 2021-09-27
Blog Posts About First Group
Get Help