Porto Sokhna Ain Sokhna
Amer Group
3 Properties
From 1,700,000 EGP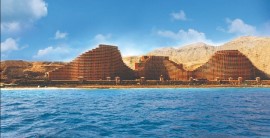 About Porto Sokhna Ain Sokhna
Status
Under Construction
Project Name: Porto Sokhna.
About Project: A unique residential resort by Amer Holding (Amer Group), which extends 270 m above sea level.
Porto Sokhna Location: Ain Sokhna.
Porto Sokhna Space: 618 acres.
Units Type: apartments - duplexex - villas.
Units Space: It starts from 62 m² up to 103 m².
Units Price: Porto Sokhna Prices starts from 700,000 EGP.
The Developer Name: Amer Holding (Amer Group).
Porto Sokhna Ain Sokhna
Porto Sokhna located on the Gulf of Suez is your gateway to the perfect holiday! Just a few hours from Cairo you'll find yourself in the 5-star resort on the Gulf of Suez, offering a variety of apartments and views for privacy lovers and a life of luxury.
It is just a few steps from the Red Sea shore, it features its fully furnished rooms with private balconies overlooking the sea.
There is also an indoor swimming pool, a lagoon-style outdoor pool with a Jacuzzi and furnished sun seats.
This resort is suitable for all visitors, whether they are families, a group of young people or businessmen seeking excellence and modernity.
The resort features a shopping mall, a fitness center, an outdoor garden, a barbecue venue and a restaurant serving regional cuisine.
Porto Sokhna Resort is somewhat different from the rest of Porto group in terms of the size of its suites, which can be as large as 500 square meters, and includes balconies overlooking the swimming pool or adjacent garden.
Porto Sokhna Resort is one of the best tourist resorts located on Ain Sokhna Road and one of the projects of Amer Group, which extends on an area of 2.5 million square meters or equivalent to 618 acres and has many distinctive sites including the area of pyramids, which overlooks the sea directly.
The owner of Porto Sokhna Resort and beach and its major works
Porto Sokhna Resort is one of the most prominent projects of Amer Group Real Estate Development, one of the most famous real estate companies in Egypt.
The Developer most important projects include:
Porto Pyramids.
Porto Marina.
Read more about the project
Where is Porto Sokhna?
It is located in the Area of Ain Sokhna, which includes the most beautiful residential communities on the Red Sea, and only 55 km from Suez city and 140 km from Greater Cairo, or about two hours only, it was completed during 2007.
Major features of Porto Sokhna
Some of the most important features of Porto Sokhna Resort include:
The resort has more activities to entertain young children and spend the longest time inside the resort.
The resort has a lot of residential units with different spaces.
Prices at Porto Sokhna Resort are the best ever.
There are hotels with the highest standard in different categories to receive guests throughout the year.
Most important services in Porto Sokhna Amer Group
Porto sokhna Resort has excellent services, including:
There are several latest styled hotel units.
There are private beaches for the resort.
An Aerial lift to move within the resort.
Practice fishing on the marina for residents.
Golf playgrounds.
Restaurants and cafes.
Jet Ski Ride.
Shopping malls with many stores.
Celebrations and carnivals are held within the resort throughout the year.
A range of swimming pools for adults, children, and ladies.
Units spaces within Porto Sokhna
It has been designed on an area of 2.5 million m² or equivalent to 618 acres on Ain Sokhna Road, the residential units are designed in the form of apartments, duplexes, and villas, where the apartment spaces start from 62 m² to 103 m², there are also different spaces for villas and duplexes.
Units Spaces in Porto Sokhna Resort
The price of the resort's hotel units consisting of a bedroom and a bathroom, which starts at 63 m², starts from 700,000 EGP.
Note that the prices and spaces mentioned herein are for the first half of 2020, and therefore it is changeable, and we, Real Estate Egypt, are keen to update the spaces and the list of residential and commercial units' types and prices constantly to keep the customer informed of the real estate market changes.
Amenities

Security

Playgrounds

Swimming pools

Shopping center

Commercial area

Health club and Spa

Water Fountains

Aqua park
Other Projects in the Same Area